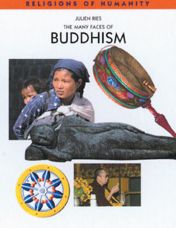 The
Many Faces of Buddhism
by Julian Ries
New York: Chelsea House Pub, 2002
30 pages. Ages 12-17.
ISBN 9780791066263
Annotation
This book is a non-fiction exploration of different branches of Buddhism, including its history, principles, origin, mannerisms, and concepts. An introduction to the concept of humanity through religion and social examination.
Commentary
Buddhism is the fastest growing religion in the U.S. Its principles are encountered in fields like psychology and sociology (including studies that explore gender, race, religion, and environmentalism), and one of its leaders – the Dalai Lama – is easily identifiable. However, many are unfamiliar with the history of Buddhism and the diaspora of Buddhist beliefs throughout Asian countries and beyond. Author Julien Ries is a religious historian and cardinal of the Catholic Church. His text invites students to explore Buddhist principles and investigate concepts relative to the Western culture and their own. Instructors can use this source to compare and contrast religions, principles and concepts, while examining the extent of its influence today. This book will allow instructors and students to explore themes of religion, spirituality, and Buddhism specifically.
No author's we
bsite
Media:
photography