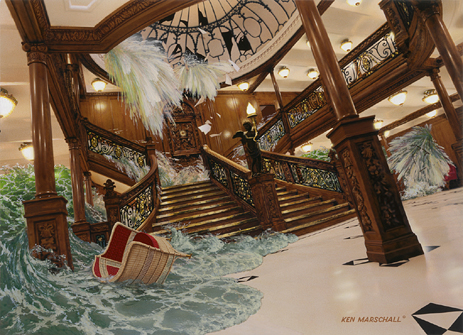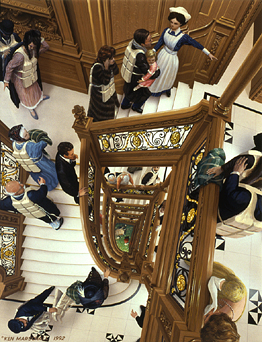 A Giant Cutaway Book: Inside the Titanic
by Ken Marschall
32 pages
©1997
Toronto: Madison Press Books
ISBN 9781864483826
Annotation
The "unsinkable" Titanic was an enormous vessel that carried cargo, crew, and nearly 1500 passengers; the facilities to support all this are shown here in detail.
Commentary
The cutaways of the famous passenger ship are like the floors of a dollhouse -- not tiny sketches like
Stephen Biesty's work
, but delicate painted figurines and furniture. They're interspersed with black-and-white photographs of actual passengers with their families. The text follows several of these passengers, using invented dialogue, but sticking closely to the details of the ship and its itinerary otherwise. Readers are guided through the boarding and departure on April 10, 1914, the events of the first few days of the transatlantic journey, the iceberg collision and the subsequent sinking of the great ship, and the recovery of some of the wreckage decades later. While the details are not discussed in depth, and more research would be necessary for a student's report, this would be a good introductory lesson for 5th- or 6th-graders.
Author Info
Media:
oil paint