Hereville: How Mirka Got Her Sword
by Barry Deutsch
144 pages
©2010
New York: Amulet Books
ISBN 9780810984226
Annotation
Our heroine, "yet another troll-fighting 11-year-old Orthodox Jewish girl", is originally from a webcomic; now her adventures are transposed into a graphic novel.
Commentary
Mirka Hirschberg doesn't fit in. Among her many brothers and sisters, she often feels crowded and overlooked, and she has the usual pre-teen trials with her stepmother.
Instead of doing her homework or learning feminine arts like knitting, Mirka dreams of slaying dragons and having great adventures in the world beyond her traditional village.
She sneaks
goyische
books into the house and daydreams over them, but when a strange house and its even stranger occupant (a witch? a real one?) make an appearance in the neighborhood, Mirka finds herself in a bit over her head!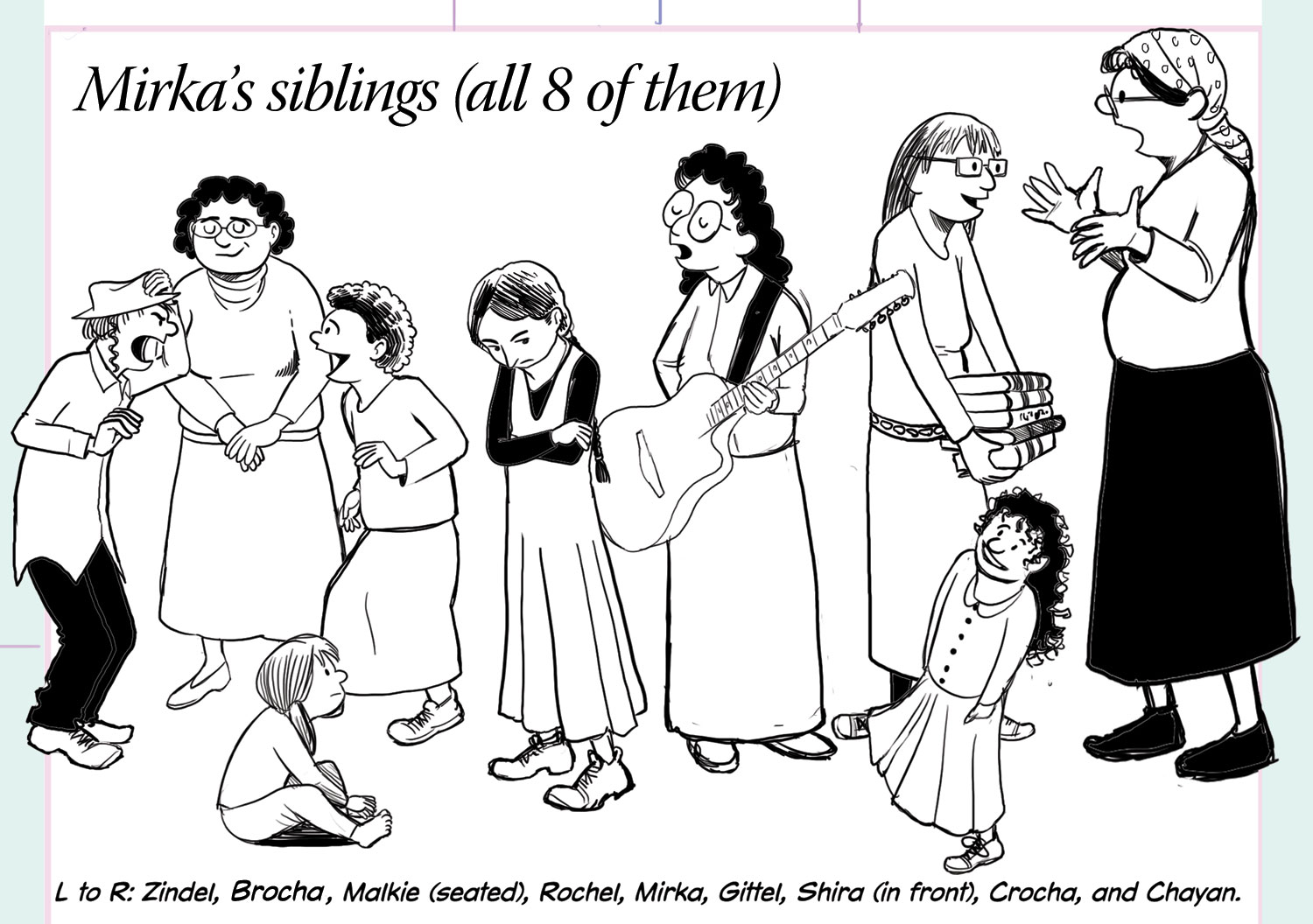 Deutsch alternates between tones of buff, peach, and pink during daytime scenes and deep blue and purple for the illustrations of Mirka sneaking out in the night. The two palettes fight for dominance in the climactic battle scene that ends at daybreak. With so many characters (often dressed similarly in school uniforms and religious garb), it's a testament to Deutsch's skill that their faces are distinguishable, consistent, and even recognizably related. The text suits a storytelling session, leaving room for plenty of expressive tones and faces -- and brief footnotes inform those readers who aren't familiar with Yiddish terms. For those who know about Jewish prohibitions on pork products, the irony of Mirka's confrontation with the witch's talking pig (an example of personification, for teachers wanting to underscore a language lesson) will prove amusing.
Because the comic was originally published serially on the web, it has a quality of disjointedness that could have been smoothed out to improve the storyline. In particular, loose ends are not wrapped up at the end of the book. I'm looking forward to the next installation of Mirka's adventures!
Author Info
Media:
pen and ink