Well, unlike
last year
, I haven't gotten all my holiday shopping and wrapping done by now. Oof.
However, we've been through a wedding, a new job (hers), minor veterinary woes, and several concert performances in the last few months. I'm gonna give myself a break.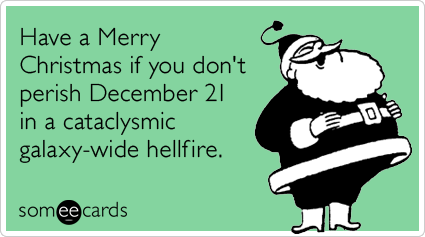 Here's what the plan looks like this year:
Scale it back.
As usual, the budget is low. I put some cash away each week in an ING Direct account (now converted to Capital One) and stopped around October (needed the cash flow). Thing is, we now have an extra handful of in-laws to shop for -- and those presents have to be shipped! (I have learned that the term is Spanish is
la familia politica
... considering the governmental politics of our union, we're using "out-laws" to refer to my family.) We used the same
gift list template
as last year, and set an approximate number per person -- sometimes we spent more or less on an individual, but it balances out. Some "extras" that helped keep costs down included small credit balances for Groupon and Amazon, collected SwagBucks and e-Rewards points, and lots of gift wrap and cards we had on hand.
Nothing that costs money (for us).
After some extravagances earlier in the year, it made more sense to limit my gift exchange with my sweetie to only items we get for free. (Repurposed or handmade items or services are fine!) We also agreed that for the next year, gifts to each other (birthdays, Valentine's Day, etc.) will come from our leftover wedding registry. We picked that stuff out carefully, and we still want it, so we'll buy it for ourselves over time.
Keep some traditions.
When we agreed to be married, my sweetie and I did some negotiating about our future plans -- kids, religion, location, finances, etc. The usual big bullet points that you cover in couples' therapy or
pre-Cana
or because you were raised in a commune where everyone processes their feelings. One thing that I needed to include was where (and with whom) we spend certain holidays. My family has two very important ones: the day after Thanksgiving (Thanksgiving Friday) and Xmas Eve. I need to be there on those holidays. I'd like it if she were there with me, too. So Xmas Eve dinner and presents at my aunt's place (a couple hours away) is a must. This year, it means that I'm heading down on the train earlier in the day, while my sweetie will follow (with a rental car, and the gifts) after she gets off work.
I also made sure that we picked out kids from the Homeless Children's Network gift drive at our church, and got them presents. That's really important to me. Some previous years I've really gone crazy (I especially love gifting books, of course, but one year there was a skateboard!), but this year I selected just one kid for each of us and matched their requests with our strengths (art supplies, plush toys, picture books). The cash outlay was minimal, but each kid got several lovingly-wrapped gifts when they might not have otherwise gotten any.
Make others work for you.
Last year we spent Xmas morning opening our stockings and other presents at my parents' house. My little sister was away in England, and we missed her. This year she's back again, and there's an international uncle sleeping in my old room. So the three gals are planning a slumber party (I will slumber; they will watch at least one movie and make fun of me) in the living room with the tree and presents. Hmmm... this might create some tricky logistics for Santa. I suppose he could swing by while we're out at dinner, the way he did that one year my sis and I decided we were old enough to stay up all night and catch him on video. The stocking tradition is pretty strong, but it can be flexible; I imagine that when we have small kids, we'll want to spend it at our own place (but maybe invite grandparents to join us).
We're planning to see
Les Miserables
after we open presents and eat brunch; the "movie on Xmas Day" tradition is a favorite of my sister's. And then my sweetie and I will zoom back to the city to spend the rest of the evening with our friends who love to entertain. (They're Jewish, so this isn't a typical Christmas celebration -- it's a Chinese food and karaoke open house. We also gleefully participated in their annual Chanukah White Elephant gift exchange.) Love spending low-key time with them (and, okay, prawns with walnuts!), but we're missing another Xmas dinner with my extended family to do that. (It's been one or the other the past five years.) I think it's the better choice this year because there's less driving and smaller crowds, but I'd like to keep that evening flexible in future years -- in case we develop family traditions of our own!
Try not to stress.
We'll have 2 busy days next week to travel and celebrate -- but that's pretty much the extent of THE HOLIDAZE. There will be more time to relax afterward. I stocked up on books before the public library closes for an extended break (thanks, budget cuts!), and I intend to get some pleasure reading in while I don't have coursework to complete. I'm one of the few in the company working the week after Xmas (I'll get some vacation days in exchange later), but my manager arranged for me to work from home with a loaner laptop, so I won't have to get up early, get dressed, and commute. Yay! I'll even be able to feed my sweetie when she comes home for lunch during her workday. And maybe do some laundry. School doesn't start up again until the end of January -- this semester thing is awesome! -- so I will have some much-needed rest AND some much-needed time to clean and organize.